21.12.2008
Vuosi 2008 päättyi mukavasti CACIB juhliin!
San Pedro alias Truozzy's Handyman lähti Joulua viettämään perheensä kanssa Espanjaan ja mikäpä Pirjosta ja Pedrosta olisi mukavampaa kuin käväistä myös samalla näyttelyssä jos se vain suinkin on mahdollisuuksien rajoissa:) No helppoa se ei kuulemma ollut, mutta tulokset kuitenkin lämmitti. San Pedro oli hienosti ROP, sai ensimmäisen CACIBin kera sertin.
Tuomarina :Javier Sánchez Fernández, ESP
Suunnattoman suuret ONNITTELUT ja KIITOKSET Pirjolle ja San Pedrolle!
12-21-2008
Year 2008 had a lovely ending with a CACIB!
San Pedro aka Truozzy's Handyman travelled to Spain with his family to celebrate Christmas. Why not get to a dog show as well if possible :), thought Pirjo and Pedro. Well, it wasn't all that easy, but the result rewarded them generously.
San Pedro was BOB with CAC and
his first CACIB.
Judge:Javier Sánchez Fernández, SPAIN
-
Huge congratulations and thanks to
Pirjo and San Pedro!
Tämä vuosi oli monin tavoin ikimuistoinen joista tässä muutama esimerkki:
Kasvatukseni peruskivi Vilma eli Flashstyle's Jovial Girl esitteli ensimmäisen kerran jälkeläisluokkansa erikoisnäyttelyssämme. Luokkaan kuului lapsoset Truozzy's Rock Me, T. Black Cat, T. Kick-Off Flash ja T. Final Flash. Luokka oli mahtavasti BEST IN SHOW !
Kiitos Vilma ja Vilman kasvattaja Mervi Kulmanen :)
Arvostelu:
Erittäin hyvä periyttäjä. Hyvät päät, rungot ja oikeat mittasuhteet. Hyvä tulos.
-Hans Lehtinen-
This year was a year to remember in many ways, here are some examples:
My foundation bitch Vilma aka Flashstyle's Jovial Girl presented her progeny group in our specialty. The following kids were in the group: Truozzy's Rock Me, T. Black Cat, T. Kick-Off Flash ja T. Final Flash. The group won BEST IN SHOW !

Thank you, Vilma and thank you, Vilma's breeder Mervi Kulmanen:)
Critics:
The bitch has left a very good progeny. Good heads, bodies and correct proportions. A good result.
Truozzy's kennel esitteli ensimmäisen kerran myös kasvattajaluokkia erinomaisella menestyksellä.
arvostelut:
Kolmesta eri yhdistelmästä koostuva hyvin tasainen ryhmä, vahvapäisiä ja hyvä luustoisia ausseja. Hyvät karvat ja luoneet. Riittävän tasainen ryhmä jossa ainoastaan yksi poikkeaa hieman joukosta.
-Marja Talvitie, Suomi-
Erittäin miellyttävä ryhmä. Erittäin samantyyppisiä ja –värisiä. Erittäin tyypilliset liikkeet. Erittäin hyvin esitetty. Miellyttävät luonteet.
-Rony Doedijns, Alankomaat-
Tyypiltään, väriltään, rakenteeltaan, ilmeeltään erittäin tasainen ryhmä. Onnittelut kasvattajalle. Hyvät liikkeet.
-Sylvie Desserne, Ranska-
Hieman kokoeroja. Voimakkaita, hyvärakenteisia yksilöitä. Tyyppieroja joku matala ja joku korkea.

-Hans Lehtinen, Suomi-
Neljä koiraa kolmesta eri yhdistelmästä. Kaikki ovat samaa tyyppiä, hyvät ilmeet, miellyttävät niskä- ja selkälinjat, kaikilla on rungonpituutta, hyvä turkki. Onnittelut kasvattajalle.
-Tinna Grubbe, Tanska-
Kennel Truozzy's presented breeder's classes for the first time with excellent results.
Critics:
A very homogenous group made of three combinations, aussies with strong heads and good bone. Good coats and temperaments. A homogenous group enough, only one dog is a little different from the others.
-Marja Talvitie, Finland-
Very nice group. Very equal in type & size. Very typical in the move. Very well presented. Nice temperaments.

-Rony Doedijns, The Netherlands-
Very homogeneous group in type, colour, construction, expresson. Congratulations to breeder. Good movement.

-Sylvie Desserne, France-
A little difference in sizes. Strong, well constructed dogs. Differences in type one is low the other is high.
-Hans Lehtinen, Finland-
Four dogs out of three different compination. They all have same type, good expressons, nice neck & toplines, all have a length of body, good coat. Congratulations to breeder.
-Tinna Grubbe, Denmark-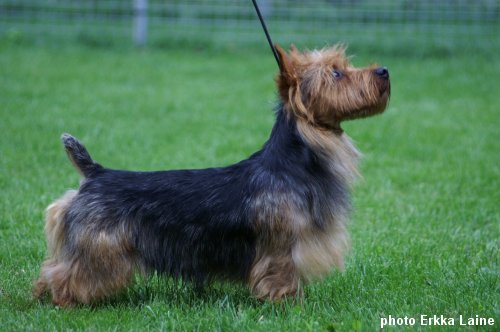 EST CH & LV CH & BALT JCH, EST JCH & LV JCH & LTU JCH
JWW'06 & PL JW'06 & PZ JW'06, LTU VJW'07, EST JW'07
Temora's American Express

INT CH
BALT & FIN & PL & LT & EST & LV & RUS & RKF CH & LT Cl.CH
BALT & LV & LT & EST JCH, EUJW-06, LT VJW-06,
LT Kl.N-06, 2*Eurasia W-08, LV W-08, LT W-08
Truozzy's Rock Me

EST JV-08
Truozzy's Handsome

AM CH
Truozzy's Black Delilah,
she got also nine puppies with Bull!

Truozzy's Handyman
got his first CAC in Finland

Truozzy's Final Flash
was Four time BOB-puppy and Once Best male puppy.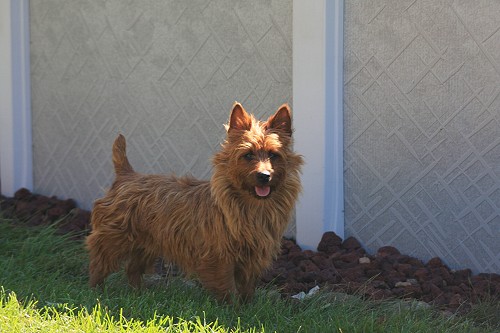 AM CH Temora's Maid In America
daughter after Truozzy's Finish Maiden "Aura"

BLR & BALT & LV & LT & RUS & EST JCH & EST JW'08
Truozzy's Hand In Hand

FIN & EST CH &
LT JW'08, BALT & EST & LV & LTU JCH
Truozzy's Black Cat

Somehow True Touch
got two cac in Finland
Haluan kiittää kaikkia mukana olleita, ilman teitä olisi paljon jäänyt kokematta! Toivottavasti ensivuosi olisi yhtä mieleenpainuva ja menestyksekäs!
Ja toivottavasti kaikki kasvattini elävät tervettä elämää kuten tänäkin vuonna!
Näihin laulun sanoihin on mukava lopettaa vuosi 2008!
I want to thank you all who have been with me to make this year, without you I wouldn't have had all these experiences. Let's hope next year will be another successful year to remember!
I also hope that in the year 2009 all the dogs I've bred will be as healthy as they have been this year!
It is good to conclude year 2008 with the lyrics of the following song!